Back To Blog
There is something special about the keys that make people feel more confident about the person who trusts them with theirs. I guess we use keys and locks to protect ourselves from the outer world and to keep the outer world away, and when we trust someone with the key we are inviting that same person to visit our privacy whenever he/ she feels like doing so. When we trust other people with our home keys we are literally inviting them to meet us for what we are and that is always something special; sharing yourself fully with other people and revealing all of your nasty domestic secrets and routines.
Follow your key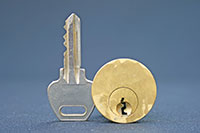 Quite often when we trust our key to someone; whether that someone is a friend or a lover we expect to receive one key in return. Now even though this may seem like childish request, it somewhat does make sense and you should definitely make sure that once you give one key away you get one in return as well. If you are willing to share your key with a person that is not willing to trust you with the same responsibility then you might end up having the straighter relationship with your locksmith than with the person you are trying to exchange your keys with. If you do not want to put yourself through unnecessary lock replacements, lock rekeys, lock installations and similar hold on to your key.
Good locksmith always may come handy
Also it always may come handy to have a reliable locksmith professional on your side and for this reason you may want to try to find one. Locksmith emergencies are just like any other emergency – unpredictable so it would be great if you would have someone covering your back at all times with reference to these types of "unpredictable".